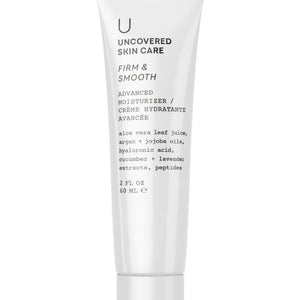 No routine is complete without moisturizer. This lightweight lotion gives a boost of hydration with tried-and-true ingredients that'll leave your skin looking healthy and feeling smooth. Botanicals like aloe moisturize while hyaluronic acid and Matrixy|® 3000 peptide complex ensure soft, younger-looking skin day after day. Massage it into your face and neck day and night as the final step in your routine.
Features 
• Creamy, lightweight lotion packed with
hydrating, beneficial ingredients.
• Part of the Firm & Smooth lineup, a
collection made for those who want visibly
firm skin with a soft, touchable texture.
• Fast-absorbing argan and jojoba oils
provide deep, next-level hydration.
• Matrixy|IM 3000 targets static and
dynamic wrinkles while improving skin's
tone and elasticity with a patented peptide
complex renowned for its anti-aging
properties.
• Aloe vera and nutrient-rich extracts like
cucumber and lavender help skin look and
feel calm and nourished.
• Powerful hvaluronic acid and peptides
help retain moisture and reduce the
appearance of fine lines and wrinkles.
• Made for all skin types, vegan, non-
comedogenic, and gentle enough for
sensitive skin.
• Free of sulfates (SLS/SLES), mineral oil,
parabens, tale, PEGs, phthalates, added colors, and fragrances.
• FL.OZ./60 ml.
• Matrixy|IM 3000 is used under
authorization of Sederma Inc.