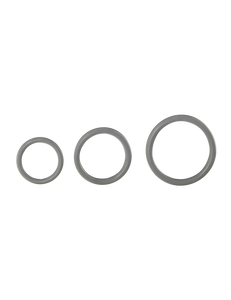 Constrict and delight with the Silicone Penis Ring Set from the RGB collection. Flexible and durable, this set includes three ring sizes that can be worn around the base of the penis and testicles to help them stay harder, longer. Your imagination is the only limit to your desire—wear one, two, or three all at the same time!
• Penis ring set with three sizes for your pleasure
 • SM: Diameter: 1.25 in./3 cm; MED: Diameter: 1.5 in./4 cm; LG: Diameter: 2 in./5 cm
 • Made of food-grade silicone that is soft and non-porous
 • Use with a creamy lubricant like Whipped
 • Inspired by how the human eye sees color—naturally blending Red, Green, and Blue light (RGB), this collection is designed for all genders, identities, and orientations.