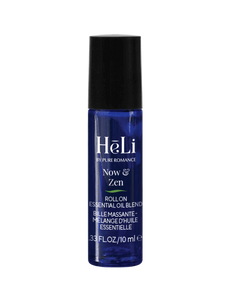 Find your inner zen no matter where life takes you. This peaceful essential oil blend mixes gentle lavender and marjoram with warm, lush ho wood and vanilla. Roll it over your temples, wrists, or neck and let the day fade away. The soothing botanical oils in Now & Zen help create a sense of well-being and support you during times of stress.
Features:
•Apply to your temples, wrists, or neck during those stressful times.
•Essential oil blend with lavender, marjoram, vanilla, and ho wood.
•Lavender and marjoram's calming properties will help you relax and keep you feeling zen.
•Vanilla and ylang ylang will help promote feelings of calm and balance.
•Ho wood helps you get in tune with your environment with a natural, forest-like scent.
•Keep this convenient rollerball in your bag for refreshing aromatherapy anytime, anywhere!
•.33 fl. oz./10 ml