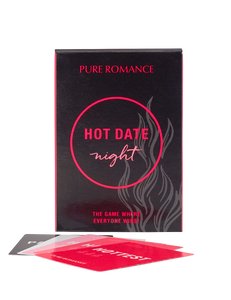 Turn up the heat on desire, foreplay, and beyond with this sexy couples card game. Includes four sizzling decks of cards ranging from hot to hottest! Draw a different card every night for a week (or two!) of hot nights or keep taking turns for as long as you both can last! Play with one deck or mix all four together. There's no wrong way to do Hot Date Night!
•This game includes four sizzling decks with 100 of the sexiest questions and suggestions—that's 25 Hot Talk cards plus 75 action cards ranging from Hot to Hottest!
•Multiple decks mean multiple ways to play! Try one, play another, or mix 'em all together—3 directions and information cards are included!
•Split up the 6 pass cards and gain some insight on you and your partner's likes and dislikes.
•Great for spicing things up in any relationship!