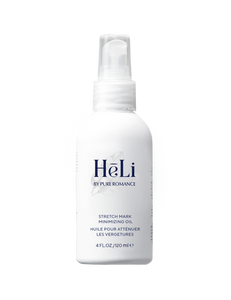 Packed with skin-loving nutrients like Vitamin E, HēLi Stretch Mark Minimizing Oil helps to hydrate, soften, and perfect your skin while helping diminish the appearance of stretch marks caused by weight gain or loss. Care for your body day and night with HēLi.
Features:
•Inspired by nature, products in our HēLi collection help balance mind and body.
• Contains nutrient-rich grape seed oil, an ingredient known to help diminish the appearance of stretch marks.
• Additional botanicals soften and soothe for healthy, happy skin.
• Natural skincare for post-pregnancy or after weight fluctuations.
• Perfect for stretch-prone areas like the stomach, breasts, hips, and buttocks.
• 4 fl. oz./120 ml