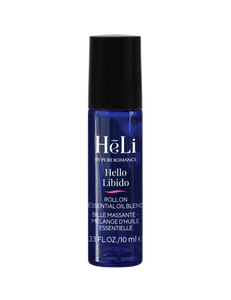 Satisfy your craving for erotic bliss with Hello Libido, an essential oil blend that awakens sensual desire. Formulated with natural botanicals that stir feelings of passion and arousal, this exhilarating rollerball balances seductive ylang ylang and sandalwood with soothing lemon balm and cedar wood to heighten heat between the sheets!
Features:
•Apply to your neck, wrists, and décolletage to help ignite passion.
•Essential oil blend with natural ylang ylang, sandalwood, mandarin orange, and lemon balm extracts.
•Keep this convenient rollerball in your bag to set the mood anytime, anywhere!
•.33 fl. oz./10 ml