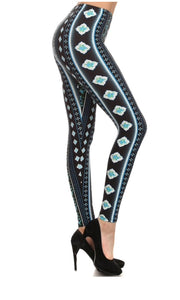 Our One Size Leggings Fit Pant Size-(3-14) This size is based on standard U.S. Sizing. Please refer to either your current pant size or a standard U.S. Size chart for closest fit.
    -Leggings that work with you and allow movement in any direction. Non-transparent and squat tested!  
    -Enjoy our Breathable Polyester (92%) and Spandex (8%) fabric blend.
    -Elastic waistband that ensures you a proper fit for that perfect contour look.
    -Top quality fabric allows for any activity without compromise, enjoy the freedom of movement.
    -Designed for the toughest of days, Running, Working out, Yoga, Dance, Raising Children, and whatever else life throws at you.
    -Vivid and vibrant prints that will not run or fade.
**Please keep in mind our size recommendation is not a guarantee. Each individual has a unique body style that we cannot guarantee that they will fit every body type. If your pant size is close to a 14, we would recommend going up a size to Plus Size to ensure proper fit and durability. Wearing the wrong size legging will result in tearing and holes**