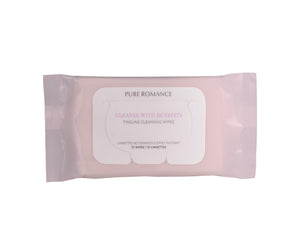 Date night's best friend—with benefits! Slip these pH-balanced cleansing wipes in your bag so you're always ready for mind-blowing pleasure, no matter where the day (or night!) may take you. Formulated to keep you feeling fresh, these wipes also have a sexy little secret: they're infused with ingredients that leave behind a tantalizing tingle on your most intimate areas.
Features:
● Formulated with a mild cleanser to help keep you feeling fresh
● Helps wipe away unwanted bacteria and unpleasant odors
● Infused with ingredients that leaves a tingling sensation after use
● Moisturizing aloe vera is known to be an anti-inflammatory that helps soothe skin
● Convenient, resealable package for easy storage in your purse or bag
● pH balanced and biodegradable, free of parabens, dyes, mineral-oil, added fragrances, and harsh chemicals.
● 10 single-use wipes per packet