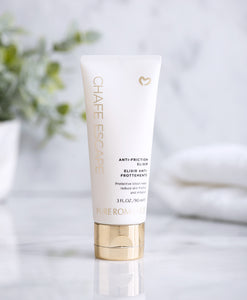 Escape the chafe with this protective, cream-to-powder lotion. Chafe Escape quickly melts into your skin for a smooth, touchable finish. Apply as needed to transform problem areas like your thighs, arms, and nipples into smooth, dry skin that's ready for anything.
• Shorts? Skirts? No problem! Wear anything you want without the worry of chafing.
• Derived from cassava root, tapioca starch ensures quick absorption and a smooth, non-greasy finish on your skin.
• Formulated with Vitamin E to help soothe and alleviate irritation.
• Free of talc and parabens.
• At 3 fl. oz./90 ml, this beauty essential fits perfectly in your purse or carry-on bag, so you're always ready for whatever the day brings you.